Virtual Keynote studio | Adventurer Melvin Redeker
Welcome to Studio Base Camp
Book Melvin as Virtual Keynote Speaker for your webinar or online event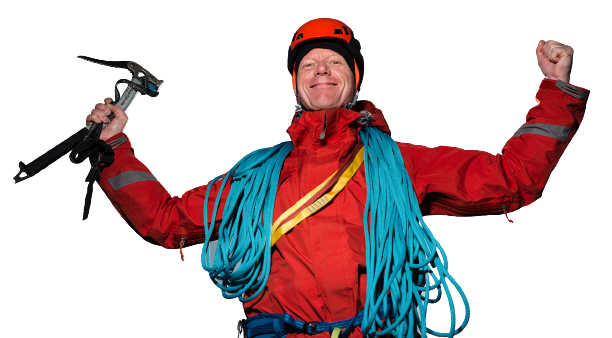 Virtual Keynote Studio | Studio Base Camp
Virtual studio with green screen and climbing wall
Welcome to my online studio: studio Base Camp. A professional studio with green screen for my virtual keynotes. My studio is especially aranged for my adventurous presentations with breathtaking images of my expeditions and key lessons everyone can apply to their busines and personal life.
Melvin Redeker is an inspirational keynote speaker and adventurer based in The Netherlands. From Studio Basecamp we stream my virtual keynotes to any desired platform. From small online team meetings to large online corporate events. We make sure everything is arranged, you and your team of customers only have to login to enjoy our virtual keynote. We help you to make your online meeting a success.
Advantages of a virtual keynote from Studio Base Camp
It doesn't matter where your participants are located in the world. From New York to Delhi or Utrecht. Anyone can easily attend.
Every online presentation consists of inspiring content, interaction and breathtaking photos and film of my expeditions. It's a dynamic virtual keynote.
In our online studio we use a professional set-up, we stream good crystal clear sound and HD image quality.
We can take care of the complete process. All you have to do is distribute the link of our livestream to the invitees of the virtual keynote.
The technique in the studio is taken care of. Which means I won't be touching a button and will fully focus on my delivery of the virtual keynote and interaction with your management team, employees or customers. That results in better quality.
We adjust the interaction tools (polls, statements, dilemmas, questions, chat) to the technical possibilities of the chosen platform.
During major online events we deliver our stream for your technical party and any desired online platform.
Do you want to speak to your guests and employees directly from our studio? You are welcome in our virtual keynote studio, based in the Netherlands. 
Some of our virtual keynote customers
Customized virtual keynote
Each virtual keynote is customized to your goals and the challenges. I provide an interactive and dynamic session.
Dynamic keynote
During the virtual keynote I have the opportunity to walk around, stand closer or further from the camera. it is a dynamic online presentation.
Technique in Studio Base Camp
Studio Base camp is a professionally designed studio with green screen for virtual keynotes and is equipped with professional video lights, camera, streaming equipment and various professional headsets and lapel microphones. We stream in HD quality. From our studio we can stream to any desired platform. We have experience with Vimeo, MS Teams, Zoom, Webex, Restream, Google Meet and many custom online event solutions. We adjust the interaction and the working method to the possibilities of the chosen platform.
Fiona takes care of the technique in the studio. The advantage is that I can fully focus on my audience, the keynote and the interaction with my audience. My presentation is supported by breathtaking footage from my expeditions. I can present my online keynote virtually from a steep mountain or from the seabed, eye to eye with orcas.
Interaction
My story is always interactive. With dilemmas and sharp questions to engage the audience. 
Speak to your employees
You are welcome in our studio. We are based in the Netherlands. It is possible to address your team, customers or employees yourself.
Studio with climbing wall
Studio Base Camp has its own climbing wall (boulder wall), on which Melvin trains to stay fit. 
A tour of Studio Basecamp
Virtual Keynote Studio FAQ
What is the length of a virtual keynote?
From 20 minutes to about 70 minutes. We choose the length that best suits your program.
What are frequently requested topics?
Resilience
Trust
Change
Teamwork
Leadership
Safety & safety culture
Climate change, biodiversity and sustainability
Are you looking for a different topic? Contact me, I would be happy to think along with you.
Is interaction possible?
Yes please! Depending on the possibilities of the chosen platform: chat, poll, viewing assignments, dilemmas and live interaction.
Can someone from our company attend the virtual keynote?
Yes that is possible. Someone from your company (CEO, director, team leader) can speak to your people or customers and answer questions in our studio, based in the Netherlands.
We would like to rewatch the virtual keynote. Is that possible?
Yes. We can provide a recording. We make an agreement about how long the recording will be available and where it can be viewed. There may be a fee for this.
Can you pre-record the virtual keynote so we can broadcast it?
We believe in the power of live. Live streaming, live presentation, live interaction and responding to questions immediately. There are exceptions when a live virtual keynote is not possible and a pre-recorded session is the only option. 
Why does your studio have a climbing wall (boulder wall)?
Melvin is a climber. Climbers need to train regularly. We used the COVID pandemic as an opportunity to build our own virtual keynote studio and climbing wall. The bouldering wall is designed for personal use, Melvin trains here weekly. We don't have mountains or crags. Climbing gyms are not around the corner in this part of Holland. The climbing wall saves Melvin a lot of time to stay climbing fit. 
Melvin is happy to accompany your team to one of the climbing and bouldering gyms in the Netherlands. Climbing is excellent for team building and creating trust. and it is fun!